35% Pure Food Grade Hydrogen Peroxide - Undiluted
**** Free eBook One Minute Cure****
Hydrogen Peroxide is simply water with an extra oxygen molecule (H202) and breaks down into oxygen and water. H202 is produced by both animal and plant cells and is formed naturally in the environment by sunlight acting on water.
Please note our Hydrogen Peroxide is Pure Food Grade, therefore it is unstable so people cannot store it with a tight lid, nor in sunlight, loosen the lid and keep in a dark place to avoid problems.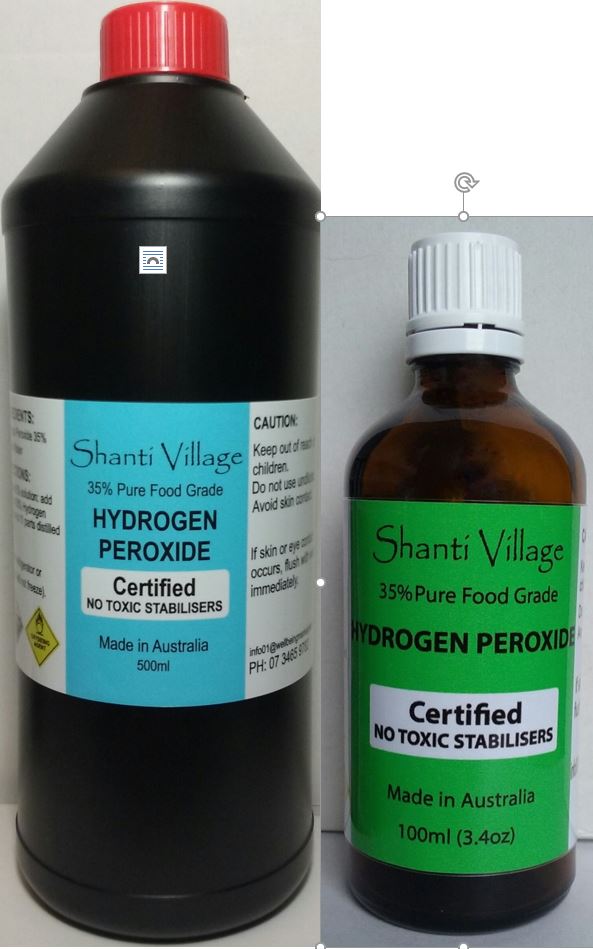 Sold in quantities of 100ml, 200ml, 500ml and 1 Litre.
* Free Ebook - One Minute Cure
* No Stabilisers, No Additives and No Impurities
* Undiluted
* Dropper nozzle tips - no messing about putting on gloves and filling dropper bottles
* Smaller size bottles means easier to carry
* Made in Australia
* Australia Wide Delivery
* Comes with instructions
Benefits:
Following are some health challenges (conditions) 35% food-grade hydrogen peroxide helps:
Allergies | Headaches | Altitude Sickness Herpes Simplex |Alzheimer's Herpes Zoster | Anemia HIV Infection | Arrhythmia Influenza | Asthma Insect Bites | Bacterial Infections | Liver Cirrhosis | Bronchitis | Lupus | Erythematosis | Cancer | Multiple Sclerosis | Candida Parasitic Infections | Cardiovascular Disease | Parkinsonism | Cerebral Vascular Disease | Periodontal Disease | Chronic Pain Prostatitis | Diabetes Type 11 Rheumatoid Arthritis | Diabetic | Gangrene | Shingles | Diabetic Retinopahty Sinusitis | Digestion Problems | Sore Throat | Epstein-Barr Infection Ulcers | Emphysema | Viral Infections | Food Allergies Warts | Fungal Infections | Yeast Infections | Gingivitis
Note: While we are unable to endorse any therapies or make any claims involving the use of Hydrogen Peroxide 35% Food Grade in Australia, due to TGA & Health Department we advise you to do your own research.
For phone orders call 07 3465 9782