Exercise with the Yoga Swing to gain strenthg and keep your body fit, release pressure on your spine and organs and eliminate with ease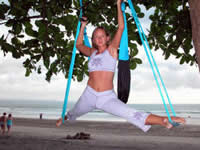 As we all know, fitness and exercise are essential to a healthy mind, body and spirit. Yoga at home, yogalates and other yoga exercises have become increasingly popular.
Yoga at home becomes easy and fun. No need for yoga videos as the yoga benefits obtained from the yoga swing are the ability to make yoga positions more accessible to our yoga body. You can cast off your old worries about motivation as your bodies memory brings you back to the childhood playground, where your excitement would cause you to run to the swing set with your friends. The swing creates a natural balance and harmony that release us from the constraints of gravity. Fluidity, movement and strength become easier than you could possibly imagine.
Yoga Swing Advantages
Easy to install / Easy to put away
Can be hung in any room or outside exercise area
Can be used in novice or advanced fitness regimes
Easy to get started and develop skills
Makes it easy to hang upside down
Relieves pressure on your back and internal organs
In addition to using the Yoga swing for powerful and advanced yoga exercises, it can simply be used as a hammock, you can just sit, or lie back comfortably and relax and still gain the yoga benefits of the happy yoga body. The kids will also love the yoga positions and will gain valuable posture and strength from learning to exercise in a fun and vital way.
The Yoga Swing instantly brings you to an understanding of your body that is traditionally received only after years of study and dedication to the ancient art of yoga. You immediately find your own specific gravity which assists in building essential core power and balance of left and right brain and body.
Yoga masters have known for generations that the balance of both sides of the bodies muscle tissue working in harmony provides you with additional stamina and strength. Making exercise easier and more satisfying.
You can start off as slow or as fast as you like with the yoga swing. If you are an advanced Yogi, you can take off on a journey of discovery. Find new muscle groups and work core areas with ease.
For the beginner, the act of sitting and stretching using the easy to grip handles for safety, will quickly advance you to levels of muscle building and toning previously reserved for expensive exercise equipment in Gyms.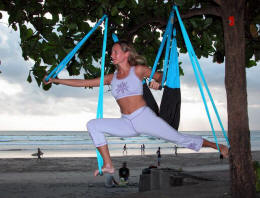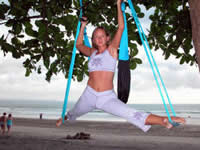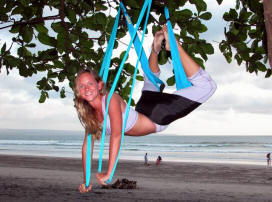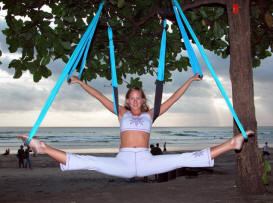 No need to carry in heavy exercise equipment. The Yoga Swing weighs almost nothing and is easy to hang up in your home or exercise area.
The two main ways of installing your swing are
Rope – Piece of rope over a beam
Anchor – a hook or eye anchored to the ceiling
To hang your swing you simply need to get a ladder, measure the distances shown in the diagrams provided and create fixing points to hang your swing from. It is that easy.
Of course safety is an issue with any device so insure that you hang your swing where there is at least 60 cm (2 ft) of free space in every direction. The more space you have the better. You will receive detailed instructions with your swing making it easy for anyone to install.
All swings come with full instructions on how to install!
Start receiving the yoga benefits of yoga at home, make yoga positions easy and enjoyable with your new Yoga Swing. We salute you in good health.
Your new Yoga swing is made from the highest quality, light weight, nylon fabric. Fabric that is soft to the skin, easy to clean and contains special micro fibres which allow the material to breathe so it never feels sweaty against your body. This same fabric is used to make parachutes for the adventure seeker and is washing machine safe. The swing will last 6-8 years with normal use and will not mildew. The first quality non slip grips adapt sponge foam bicycle technology for ease and comfort.